Web Counters
Website Visitors
Since
Feb 5, 2019

Visitors Today
Dec 05, 2021

Welcome to the Official Website for the
Friendswood Volunteer Fire Department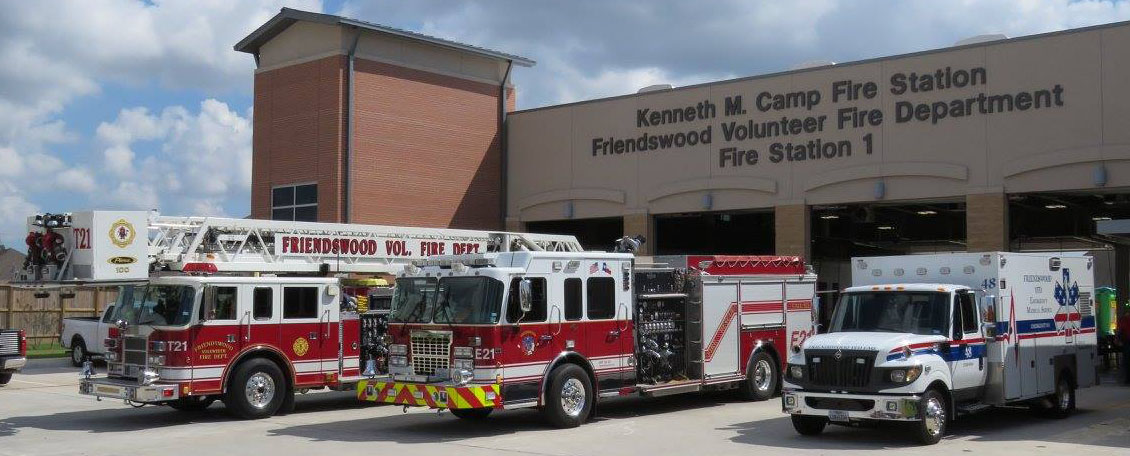 5k Flapjack Run

Member Mike Jankowski, December 04

Thirteen of our members participated in the Friendswood Flapjack 5k Fun Run. Eleven of them completed the 5k in bunker gear with an air pack. This is to continue our physical and cardiovascular fitness program. Both of which are essential to firefighter performance. Awesome job ladies and gentlemen.
... (Full Story & Photos)

Houston 9/11 GoRuck Event

Member Thomas Kromis, October 07

On Saturday, September 11, 2021 members of your Friendswood Volunteer Fire Department were honored to participate in the 9/11 GoRuck event in Houston, TX. This event commemorated the 20-year anniversary of 9/11 and was sponsored by the Travis Manion foundation. The 9/11 anniversary is a time for us to remember the first responders who gave the ultimate sacrifice that fateful day to include 343 firefighters ... (Full Story & Photos)

2nd Annual FVFD Murph Challenge Event

Member Thomas Kromis, June 07

This past Memorial Day your Friendswood Volunteer Fire Department honored those warriors gone before us by participating in the 2021 Murph Challenge https://themurphchallenge.com

What comprises the Murph Challenge: 1-mile run, 100 pull-ups, 200 push-ups, 300 squats, 1-mile run (20 lb. vest optional)

This event saw your firefighters (to include military veterans), EMS personnel, FVFD family members, ... (Full Story & Photos)

Ruck for Sam

Member Thomas Kromis, March 01

On Saturday, February 27th, members of your Friendswood Volunteer Fire Department participated in an event to honor our former Asst. Chief Sam Scott and to raise awareness for suicide prevention.

This was not only an opportunity bring attention towards something important to us all, but also to push ourselves, through a 13.1 mile event while wearing a rucksack (50 lbs. for males, 30 lbs. for females), ... (Full Story & Photos)

Murph Challenge Accepted - FVFD

Member Thomas Kromis, June 03

This past Memorial Day members of your Friendswood Volunteer Fire Department participated in the Murph Challenge https://themurphchallenge.com

This event saw firefighters, EMS personnel, Support, as well as family members join in to honor those who gave the ultimate sacrifice in order to preserve the freedoms that we enjoy today. The Murph Challenge is an annual fundraiser for the Lt. Michael P. ... (Full Story & Photos)


We mourn the passing of Letha Camp

Member Mike Jankowski, April 20

It is with a heavy heart that we need to announce the passing of Friendswood Volunteer Fire Dept Former Paramedic and Life Member Ms. Letha Camp. Ms. Letha passed away suddenly this afternoon at her home. Ms. Letha joined the Friendswood Volunteer Fire Department in 1974 and retired in 2005. She continued to support the Friendswood Volunteer Fire Department with her tireless support of our injury ... (Full Story & Photos)



Pictured: Battalion Chief Jeff Smith, Metro Fire Rep David Tovey, Assistant Fire Chief Mike Jankowski, Captain Brett Cockerham

New Fire Truck

Member Mike Jankowski, March 28

The Friendswood Volunteer Fire Department accepted the delivery of a new fire engine. The 2019 Spartan Metro Star is replacing a 1997 Spartan Gladiator. The Gladiator has served the city but has reached the end of its useful life. Over the next several weeks fire crews will receive training on the new truck. It is anticipated the new E21 will be in service by May 1st.
Your feedback is important to us! Feel free to sign the guestbook.
Neighbors Serving Neighbors